Oh, the work hours lately. I guess I shouldn't complain, since the folks I'm working with have been working short-staffed for some time before I came along. But they barely got me trained before one of our managers went in for back surgery! So they are still working six days a week and very long days. And now I'm in it with them. I had it soooo easy at the other restaurant in comparison. But at least there is little or no personal stress between staff members at the new place.
That first paragraph is by way of explanation of my recent absence and a thanks for your patience. I cringe when I find myself writing the tired old post that starts with, "Sorry I haven't updated in a while!"
So today these three guys and I,
after I spent way too much money and time trying to save a penny or two on groceries, and then completely misplacing some birthday cards I bought, went to visit this guy (the silver-haired handsome one who coincidentally looks a lot like me):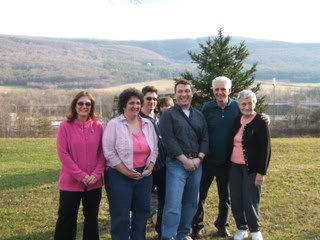 to which him a happy 75th birthday. His actual birthday was three days ago on March 3rd (which made it almost a compliment when Jonathan told him he didn't look a day over 75). Yes, folks, 3/3/33' that's the magic date, and the reason why we call him the Semi-Christ. Interesting pseudonym for a former baptist missionary. But I suppose I'm not your everyday former theology student either.
We had a wonderful time, and ate grandma out of house and home. Josiah and his brothers razzed me about leaving and forgetting to take Dad's birthday cards. We had to stop in this tiny little town and find some new ones at this tiny country store where the poor guy in front of me in line had to keep asking to put another article back on the shelf since he didn't have enough money. Makes me see my own budget crunch in a better light.
Micah was hyper today and kept telling the punch lines to jokes totally out of context, which cracked his confused grandparents up repeatedly. When Esther asked him what he was talking about once, he replied quoting my previous admonishment, "Oh, I'm sorry. I'm telling jokes out of context again!"
Oh, and he got in trouble today in school. For dancing at lunch. Yes. Dancing.
I am pleased. It could have been drugs or violence, right? I can handle a discipline report over dancing at lunch. Hell, I was always too depressed at lunch to even tap a toe. So they must be feeding him well.
Looking at Dad and how happy and healthy he is out on that farm with his cows and freezer full of venison, looking at the guy buying bread and milk in the country store, and reading about the serious infraction in the lunch room... Well, it's no wonder I am sitting back tonight, soaking my feet, sipping a little brandy and thinking about how sometimes it's all about perspective.